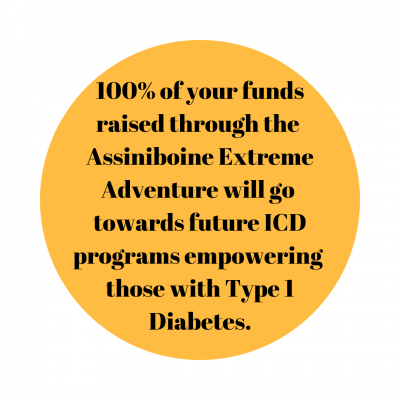 Welcome to the Assiniboine Extreme Adventure Fundraising Campaign. The wonderful people below have chosen to raise funds for I Challenge Diabetes. Their upcoming adventure is the activity they have chosen to raise funds for ICD, similar to a walking or biking campaign. This fundraiser will provide opportunities for future ICD participants to be inspired and connected with Type 1 Diabetes peers and mentors across Canada. Help them help ICD by donating and showing your support. Your donation will support ICD in offering specialized programs for people with Type 1 Diabetes to empower and motivate them to manage their diabetes and maintain a healthy lifestyle
Simply choose who you'd like to support in achieving their fundraising goal and make a donation today!
Amy Watkinson

If you can dream it, you can do it

Angie Jarvis

Do something today that your future self will thank you for.

Bex Alloway

Billie-Marie Hunter

When nothing is certain, anything is possible.

Catharine Lockhart

Shoot for the moon and if you fail, you'll still land amongst the stars

Chris Jarvis

With the right group of people around you and you never know what you will accomplish!

Davis Jamieson

Diabetes has never stopped me from doing the things I love, it just adds an extra set of things to think about

Dustin Borschawa

You can do a lot more than you think.

Finley Lohsen

Every day and in every way I am getting better and better

Imran Nathani

Why fit in when you were born to stand out?

Jane Jarvis

Type 1 Diabetes is not who we are, it's what we have.

Jennifer Lemke

Be grateful for what you have, and work for what you want.

John Whitehead

With Diabetes there is no bad number as numbers are simple information to help us make our next informed decision.

Richard and Lukas Goudie

Shelby Borschawa

"If you don't believe superheros are real i'll show you a type 1 diabetic"

Sigal Matasao

Success is not final; failure is not fatal, It is the courage to continue that counts

Tyson Fiveland

If you can dream it, you can do it!