Diabetes Sport Camp July 9-13


July 9, 2018 - July 13, 2018




9:00 am - 4:00 pm
Event Phone: 877-776-0667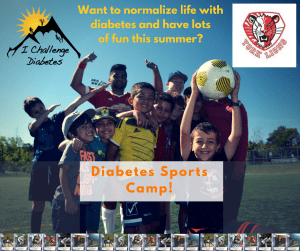 After the success of last year's partnership with Lions Camps, which offered youth with T1D, siblings and friends a top-notch sports camp, I Challenge Diabetes is excited to announce that this year we plan to expand for three weeks and several PD Days!
Background
Lions Camps operates in a world-class facility on York University Campus, renovated to host the 2015 Pan Am Games. The Pan Am Games is a major sporting event hosting thousands of North and South America's finest athletes in their respective sports. The games are hosted every four years in the year prior to the Summer Olympics and are often used as a qualifier to compete at the Olympic Games. Not only does this camp use the facilities of the Pan Am Games, but it also has one of Canada's first Gold medal winners, Chris Jarvis (competing with partner Dan Casaca in rowing, at the Games in 2007), who will be directing the diabetes sports camp and working with the kids all three weeks of camp!
Camp Overview
This camp is a multi-sport day camp at York University that will provide diabetes support, education, mentoring and normalization all integrated with awesome workouts, skill development and a whole lot of summer camp fun for all ability levels. The camp is divided up by age category in an inclusive framework to allow T1Ds to participate alongside their peers. Age categories are: 6-7 years, 8-10 years, 11-12 years, and 13-15-years (note: the 13-15-year-old category has a leadership camp July 9-13th that will allow them to join in the fun, earn a certificate and a spot on our team as a volunteer for the remainder of camp, if desired).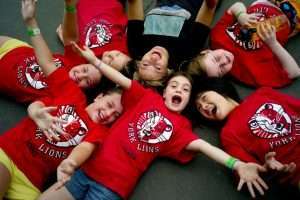 You can imagine that Ultra-marathon runner Elizabeth Harvey didn't earn her medals, running over 80 km continuously in one day, by leaving her diabetes behind. Neither did Dessi Zaharieva dodge diabetes in Taekwondo, or Chris Jarvis toss his T1D overboard, on their way to international podium finishes. Each of these athletes were T1D counselors last year at ICD's pilot program. Michael Riddell would never blow off a bolus before delivering a presentation on exercise and diabetes at one the many international conferences he speaks at, as a Ph.D. professor at York University and founder of the York U Diabetes Sports Camp.

Each day, Lions Camp director Jaclyn Zeimniak designs programming that has been set to build in self-care and safety for all children, with sunscreen, snacks, water breaks and a swim test, allowing all to be their best as they rotate through the day's action. Our diabetes sports camp leaders integrate diabetes management checks in the same way… like it is just part of a normal day. And it will be here, giving you a chance to send your child to camp with their friends or siblings, with the support they all need to fit right in and have fun.

(Additional information on diabetes management below)
Who:
The camp is open to children with and without type 1 diabetes aged 6-7 years, 8-10 years, and 11-12 years of age each week. Youth aged 13-15 years have a specialized leadership camp July 9-13th only. They will join in the fun, earn a certificate and a spot on our team as a volunteer for the next two weeks of camp, if desired. Our registration is set for 32 children with T1D and is first come first serve. 
When:
Dates:
This registration page can only sell you one ticket (dates bolded below) but the other options are provided for your benefit!

April 27th PD Day Program (Durham/Peel/Simcoe School Boards)

June 4th PD Day Program (Durham/York School Boards)

June 8th PD Day Program (Toronto/Hamilton School Boards)

June 11th PD Day Program (Peel School Board)

Week 1 July 9-13 (Leadership Development Week)

Week 2 July 16-20

Week 3 July 23-27
Time: From 9:00 am until 4:00 pm
Please note that there is an early drop off (8:00 am to 9:00 am) and a late pick up (4:00 pm to 5:00 pm) available for an additional fee of $15 per week for one option or $25 for both.
Where:
York University, Tait McKenzie Centre, 4700 Keele St., Toronto, Ont.
Bus lines arrive directly from places like Square One and York U is now accessible by TTC Subway. We can plan for support to guide participants for the short walk from the drop off to the athletic facilities.
Cost:
$200 per week plus HST and the cost of online credit card processing fee (or call in to register with cheque or cash).
Add-on: For early drop off or late pick up, there is an additional cost of $15 per week for one of the options or $25 per week for both.
Please note, lunch and snacks will not be provided. Diabetic low supplies will always be on hand. If finances are a barrier, please contact ICD at [email protected] about our empowerment fund.
Diabetes Empowerment:
Our coaching staff, who lead drills and games for all the kids, share their stories and demonstrate openly what they do themselves to stay on top of their health, the challenges they face, and how they overcome obstacles. This helps to 

reduce the stigma and discrimination of managing diabetes as campers interact with people who have T1D in a positive, open context, which demonstrates the growth mindset behind every person with a challenge that is required to perform at a level with their peers.

Coaches and peers with T1D who share the same tasks and obstacles to success, create an immersive environment to empower growth, develop independence, self-confidence and communication skills for youth as the

routines they are required to live with are now all around them.

Support: While we do not intend to take the diabetes management away from youth attending our camps, we do provide structured support to ensure testing and insulin decisions are being made with an individualized commitment to support any aspect of diabetes management that enables the child to join and grow. Whether that is delivering insulin whenever needed, carb counting, site changes, pump problem solving, or decisions on treatment.

Communication and Development: Our goals are to connect with parents/caregivers at the start and end of each day to capture any directions from parents for the day and follow through with a flexible support plan. Any issues would be taken on by our team onsite. We track all tests, snacks and insulin captured on our log sheets integrated with activities to provide a daily print out with pointers for potential adjustments, when needed. We are flexible with your needs and can build that confidence over the course of our programs.

While ICD plans its specialized camp staff roster, we will also be working with Jaclyn to train the entire Lions Camp staff to broaden this awareness and give first-hand learning experiences to these staff and better prepare them to support other Lions Camp programming (camps running all summer). Training will include watching for lows, recognizing trends, and knowing how food and exercise affect diabetes. They will also be trained on how to use Glucagon in the rare case that they have to administer it to anyone.

Lastly, York U Diabetes Sports Camp takes place just meters away from the lab where the exercise physiology team leads their experiments, testing all manners of impacts of diabetes including studies on how the artificial pancreas should manage exercise! It is quite likely that one of these awesome researchers will welcome us into the lab and allow the kids to see this research in motion – A highlight of last year's camp!
For any questions or comments – please contact [email protected] or 877-776-0667
If you are able, donations to support this programming are needed – please visit this link (click here).
Refund Policy
Camp fees (less deposit) are fully refundable with no questions asked if notification of cancellation is received no later than four weeks prior to the camp start date. Cancellation requests made later will be considered on a case by case basis. We are here to help when you are in need, please don't hesitate to contact us.
Address:
4700 Keele St.
,
Toronto
,
Ontario
,
Canada
,
M3J 3T8