7th Annual Tobermory Adventure Camp


July 1, 2018 - July 5, 2018




11:30 am - 1:30 pm
Join us for our 7th Annual Tobermory Adventure Camp. This follows the iconic Bruce Trail in what we would typically call a hiking expedition for 4 days in the backcountry. Because we hike reasonable distances each day and add in a whole lot of adventure with amazing cliff-top views, sea caves and rock formations, we had to make an exception. Our leaders and peers living with T1D who understand the highs and lows of diabetes have recommended this program to peers 100%. We will help you connect, develop skills on this trip that you can take with you anywhere and stay motivated with memories of the glittering turquoise waters of the Georgian Bay.
New: Leadership development opportunity to assist in our back to back "Intro To Adventure Camp"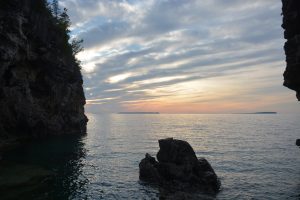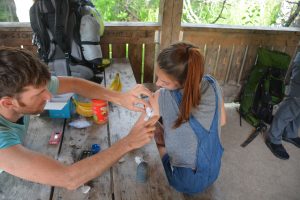 What:
5 Day/ 4 Night Backcountry camping adventure on the stunningly beautiful Bruce Trail. This amazing experience unites adventurous type 1s while stepping outside their comfort zone, guided by the most experienced leadership team for T1D's outdoor education in the world. Our Tobermory Adventure Camp is an amazing opportunity to take in the beautiful Georgian Bay and operates at a challenge by choice while exploring the grotto, climbing, swimming and of course taking in the amazing views!
We have received equally powerful testimonials from participants who love adventure to those who would not dare squiggle into a cave or even tip toe to the edge of a cliff! Likewise from those who are not sure about spending time with others with diabetes and never want to talk about it. Diabetes management is completely supported and makes get's easier each step taken on this trip.
Our Leadership team knows every square inch of this trail and has guided type 1 diabetics on thousands of kilometers of trails. Be sure to check out pictures from our previous Tobermory Hikes:
2017, 2016, 2015 , 2013 2012 and 2011
When:
July 1st – July 5th
Drop off on July 1st  at 11:30 am
Pick up on July 5th at  1:30 pm
(Transport from Toronto and Burlington carpool locations can be arranged)
Where:
We will be departing from the Crane Lake Trailhead in the Bruce Peninsula National Park near Tobermory, ON.
The participants will hike on the Bruce trail on the following schedule:
Day 1 Drop-Off, Crane Lake Trail Head to High Dump
Day 2 High Dump To Storm Haven
Day 3 Explore Half-way Log Dump (Stay at Storm haven)
Day 4 Storm Haven to Cyprus Lake
Day 5 (Explore the World Renowned Grotto) Pick-Up
We will be emailing registered participants with maps and more detailed directions.
Who:
This event is open to active people with type 1 diabetes looking for an amazing outdoor experience, mentoring, peer support, learning strategies to make T1D life easier and free. The program is ideal for a mixed age category from grade 8-12 and often retains young adults into the leadership of the program. This year, we will have a leadership development aspect built into this program that will allow select participants to stay for an additional 3 days to support someone in our "Intro to Adventure Program". The Intro will be happening back to back so that these hikers will finish the program as the next wave arrives on July 5th. ([email protected] for more info – while all can participate in the development in this camp, we have select space for the "Intro" program that follows)
Participants who would like to bring a friend to enjoy this trip are welcome to connect with our team to see if space is available. Teens without T1D are often immersed within our programs to learn about the complex decision making involved and become great supports while loving every second of the program.
Cost:
$420 early bird pricing until March 20th +%3.5 Credit Card Processing Fee
$465 March 21st – April 20th +%3.5 Credit Card Processing Fee
$520 April 21st – May 20th +%3.5 Credit Card Processing Fee
Includes camping permits, all foods and snacks, tents, camp kitchen, back country safety equipment and ICD leadership and credit card processing fees. We are able to support additional needs for backpacks, high-end sleeping bags and head laps upon request but proper hiking shoes/boots, rain jacket, athletic wear are required – we will provide a detailed gear-list to help and answer any questions!
Why:
Learn something about yourself and connect with others who understand the ins and outs of diabetes management. This is a great opportunity to see take in picturesque views and discover what you can accomplish with the right support.
Other Info:
Since we will be carrying all our supplies on our backs, it is VERY important to pack smart and pack light. We will provide gear lists as well as support you if you require gear rentals. Feel free to contact us if you have any questions surrounding gear rentals.
Our Leaders:
This program has amazing leaders, type 1 diabetics living full lives who love to mentor and share the skills and habits that have helped them to go after their wildest dreams and enjoy the 'normal' day-to-day parts of life. Our ICD leadership team has lead more backpacking trips for type 1s than anyone else in the world.


Questions:
Email [email protected] or Call 1-877-776-0667
Address:
264 Crane Lake Rd
,
Miller Lake
,
Ontario
,
Canada
,
N0H 1Z0