Canadian Ski Marathon 2017


February 10, 2017 - February 12, 2017




5:00 pm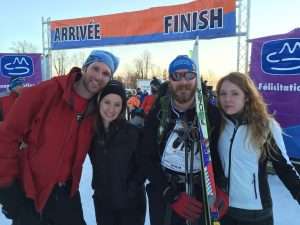 What – A Nordic ski tour that ranges from a small segment of trail all the way up to 160km through the stunning Laurentian Mountains.
Come ski with ICD! The Canadian Ski Marathon is a fun event for all ages and abilities. Join the ICD team and come ski through the beautiful Laurentian Mountains. Fun for the whole family with four different options for all skill levels.
Option 1: CSM-Taster–This allows you to ski the last leg of the marathon on Saturday and Sunday, so you can experience a small section of the beautiful wilderness trail and see what the Canadian Ski Marathon is all about.
Option 2: Tourer- Choose your own adventure!This category has the most flexibility and is the most popular. You get to select how many days and how many kilometres you want to ski.
Option 3: Half-Marathon-The half marathon includes the last 3 sections of the race on each day. This is the perfect option for those wanting to prepare to participate in the Courer de Bois one day.
Option 4: Courer de Bois-  Those looking for an intense adventure, this is for you! The total distance for the weekend covers 160 kilometres, with each day being approximately 80km, split into five sections.
When – February 10th – 12th, 2017
Where – The race begins in Montebello and will travel towards Lachute. Each race type (Tourer, Half, Taster, Courer de Bois) will begin at different sections of the race each day.

Who – All Type 1s along with friends and family; all skill levels welcome.
Cost – Cost is to be paid on the race website and varies by race.
Important: Be sure to register on the CSM Registration Page as well as with us. 
Purpose: To show that even individuals with diabetes can take on incredible challenges and to get people out and experiencing all the fun and beauty that cross country skiing has to offer.
Other Info: For more details on the different legs and cost of the marathon please visit the Canadian Ski Marathon website. You will need to register on the race site, however please register with us as well by February 5, 2017 so we know who will be a part of the ICD team.
Address:
378 Rue Papineau
,
Papineauville
,
Quebec
,
Canada
,
J0V 1R0
Description:

Louis-Joseph Papineau High School
378 Rue Papineau, Papineauville, QC J0V 1R0