Exercise & Excellence @ York University


August 28, 2018




6:00 pm - 10:00 pm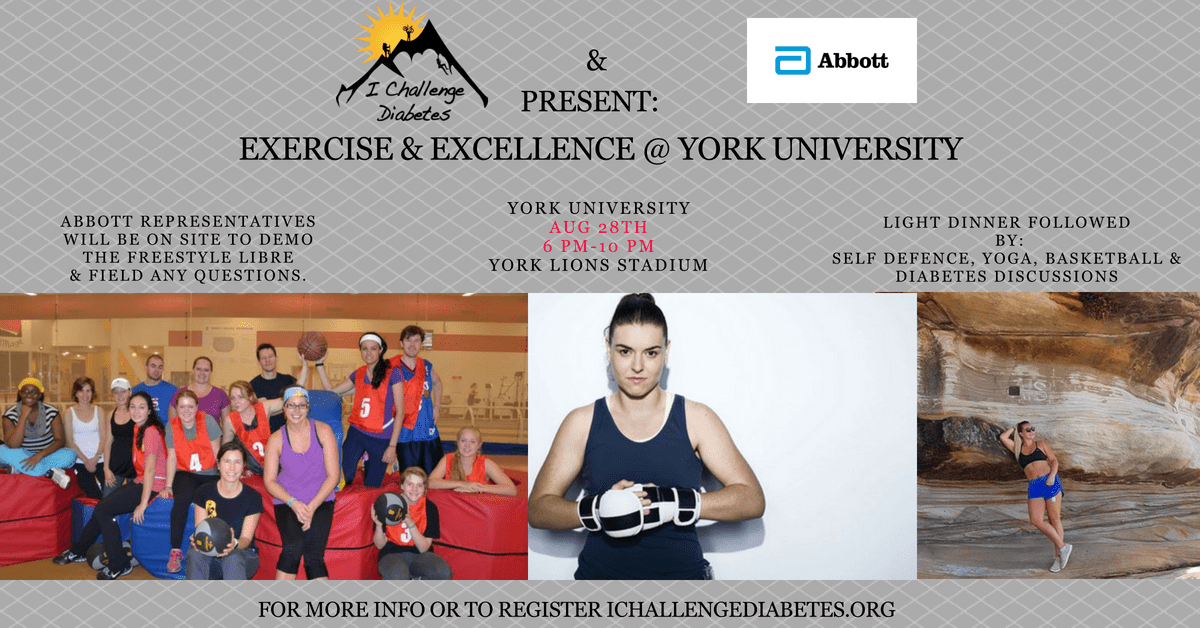 Who says kids get to have all the fun? On August 28th, I Challenge Diabetes is bringing together some of Canada's elite athletes and coaches for a fun filled evening of learning and connecting with other ADULTS living with T1D.
We have elite athletes with over 100 combined years of experience managing type 1 diabetes. With Olympic, National, Provincial or Extreme levels of competition – these athletes will offer advice, along with tried and true management strategies that you can try in a safe and supportive environment.  
This event is for participants and family members who are aged 18+.
No athletic ability required – we've got a challenge for participants of all skill levels.
Details: We will be meeting at the South Vip Lounge in the Lions Pan Am Stadium.
Schedule for the evening:
6:00 – 6:30pm – Registration & light dinner
6:30 – 7:00pm – Welcome and Introduction to the evening
7:00 – 7:45pm – Self Defence
Break! – Abbott representatives will provide an exclusive product demo of their new Libre scanner, and answer any questions you might have about this device. Even those already using the Libre can take advantage of this opportunity to troubleshoot issues or ask deeper questions about the technology and what's next!

8:15 – 9:00pm Yoga
9:00 – 9:45pm Basketball
9:45 – 10:00pm – Conclusion & closing remarks
Light Dinner Provided – All dietary requirements will be catered to.
Where: York University, Lions Stadium Address: Ian MacDonald Blvd, Toronto, ON M3J 1P3
When: Aug 28, 2018
Who: All participants must be age 18+. This program is geared towards individuals with type 1 diabetes, and their friends or loved ones who want to come join the fun and learn something new about T1D.
What:  An event for people with type 1 diabetes (their family or a friend) to get together and. We will not let diabetes hold us back, limit our performance or stop us from having fun.
Tickets:
Exercise and Excellence Ticket – $25
Pay At the Door – $30 cash
Empowerment Fund/ Pay what you can-
Sponsors:
This event is exclusively supported by Abbott Diabetes Care. During the evening you will get an opportunity to meet representatives from the company and see the Freestyle Libre in action.
Please Contact us with any questions or concerns.