Girls Dance Days


May 27, 2017




1:00 pm - 3:00 pm

Girls Dance Days


June 11, 2017




10:00 am - 12:00 pm

Girls Dance Days


June 17, 2017




1:00 pm - 3:00 pm

Girls Dance Days


June 25, 2017




10:00 am - 12:00 pm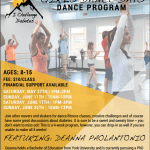 What: Come out to move and groove at this fun dance event! Join ICD and Doctor of Dance (PhD candidate) Deanna Paolantonio a type one diabetic and dancer, in a class focused on teaching participants all about managing blood sugar while exercising.
Join other movers and shakers for dance/fitness classes, creative challenges and of course have some great discussions about diabetes. It is sure to be a sweet and sweaty time – you don't want to miss out!
Who: Type 1 girls under the age of 15. All skill and levels in both dance and diabetes management are welcome.
Those who attend this event also have the opportunity if they chose to be part of a research study. The purpose of this research is to investigate how and if involvement in recreational/communal dance classes can assist girls in achieving higher levels of confidence and overall positive body image. Moreover, this study is interested in understanding how girls dealing with a chronic condition such as type one diabetes conceptualize their bodies and the treatment it needs. The research which will occur in the dance classroom focuses on how involvement in dance classes and diabetes education events can aid type ones in achieving the highest level of self-esteem possible, which would relatedly lead to better care of diabetes and happier students. Participants will be required to fill in a short survey.
Participation in this study is NOT required in order to participate in the event.
Address:
York University Keele Campus Accolade East Building 83 York Blvd. 2nd floor
,
North York
,
Ontario
,
Canada
,
M3J 1P3