ICD Splash Burlington


March 25, 2018




9:45 am - 4:30 pm
ICD is heading to Burlington to spend a day taking part in a basketball workshop, ICD activities and then have some cool with some swimming fun.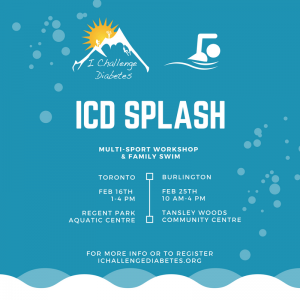 What: Ever wondered what happens to your blood sugars while taking part in a high endurance sport like basketball! Need some tips or strategies to help you while playing other similar sports. Then this is the event for you, we will be sharing tips and strategies to help manage diabetes no matter what the sport or challenge  you want to take on. We will spend some time getting to know one another and working together take part in several activities without letting diabetes get in our way. We will end the day by hopping in the pool where we can swim laps,  splash around in the leisure pool, or take a ride on the waterslide!
Note: We will be bringing low supplies and some snacks but each a participant should to bring a packed lunch
When: Sunday March 25th
Drop off- 9:45 Am – 10:00 Am
Pick up- 4:30 pm  
Where: Tansley Woods Community Centre
1996 Itabashi Way, Burlington, ON L7M 4J8
Who: Kids and youth with type 1 diabetes, and their families.  
Cost: $10 per participant, includes workshop fee and swim admission.Spectators are free
Tickets:
Activity Ticket: $10 includes workshop fee and swim admission + credit card processing fee.

Pay at the door: Unable to pay online ,this option lets you register and then pay  at the door.

Spectator Ticket: Come support someone with diabetes.

Empowerment fund:Finances should not be a barrier! Selecting this option allows us to use funds that we have set aside to ensure everyone is able to make it out to our events.
Questions: Email: [email protected] or call: 1-877-776-0667
Address:
1996 Itabashi Way
,
Burlington
,
Ontario
,
Canada
,
L7M 4J8