ICD Splash Toronto


March 16, 2018




1:00 pm - 4:30 pm
ICD invites kids to spend a day during March Break for activities followed by some swimming fun.
What: Join us after lunch for some ICD activities, getting to know one another and taking part in some activities that have been enjoyed across Canada. Then we will all hop in the pool where you can swim some laps, splash around in the leisure pool, or take a ride on the waterslide!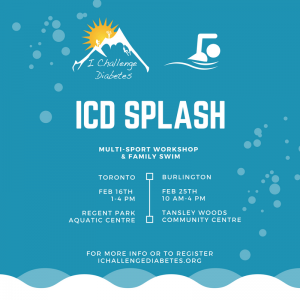 ICD is offering this event at no cost to participants. We only have a limited number of spaces available so we ask that everyone who registers to make sure they are able to make it.
When: Friday, March 16th
Drop off- 1:00 pm – 1:15 pm
Pick up- 4:30 pm
Where: Regent Park Aquatic Centre
1640 Dundas St E, Toronto, ON M5A 2B8
Who: Kids and youth with type 1 diabetes, and their families. Kids 8+ can be dropped off, however children 7 years and younger must be accompanied by a parent (or caregiver) during the day.
Cost: Free. ICD is providing this event free of cost to all participants. However we only have a limited number of spots available in the pool. If you are uncertain if you are unable to make it but want to save your spot we just ask that you confirm your participation beforehand.
Questions: Email: [email protected] or call: 1-877-776-0667
Address:
1640 Dundas St E
,
Toronto
,
Ontario
,
Canada
,
M5A 2B8