Exercise & Excellence Series: Kingston


December 8, 2019




1:00 pm - 4:00 pm
Event Phone: 877-776-0667

I Challenge Diabetes is excited to announce our upcoming Kingston Trampoline Event!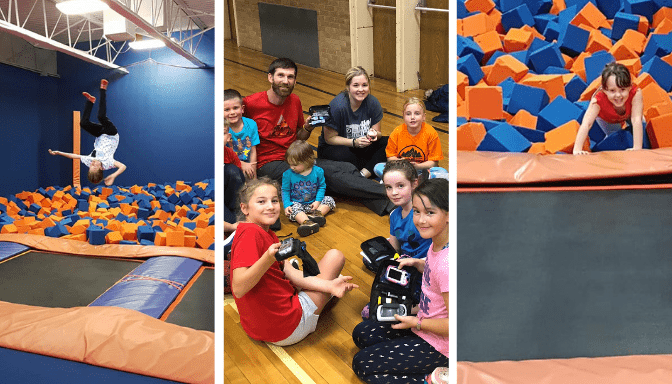 This is a fun family afternoon that will provide diabetes support, education, mentoring and normalization all integrated with a whole lot of trampoline fun for all ability levels.Participants are invited to join their peers living with T1D to take part in a fun afternoon of jumping, bouncing and bolusing with ICD leaders and mentors, within ICD's framework of optimizing blood glucose management during exercise. We create a positive, supportive environment where kids and families learn and grow together! 
When: Sunday December 8, 2019  1-4pm
Who: Open to kids and teens with T1D and their friends and families
Jump Ticket: $25 per jumper (includes jump ticket, socks, pizza, drinks and ICD's mentorship and programming!)
Spectator Ticket: $0
Where: Xtreme Trampoline Park, Kingston ON
1pm                    Registration/Intro/BG checks/Diabetes management strategies
1:30 – 3pm        90 minute jump time with breaks for BG checks and snacks
3pm                   Pizza, veggies, drinks and carb counting games in our reserved room.
4pm                   Reflection/End Program
As always we are happy to accommodate any and all dietary and allergy concerns/requests. Gluten free pizza will be provided to those who indicate gf upon registration.
Please bring a water bottle, diabetes supplies, test kit, running shoes, low supplies and snacks. We will have Dex4 and Clif bars on hand.
If finances are a barrier, please choose our Empowerment Fund Ticket, and pay what you can. 
Address:
1525 Robinson Court
,
Kingston
,
Ontario
,
Canada
,
K7P 0C7