January 19, 2020




12:30 pm - 3:30 pm
Start the New Year off right and join us for an active and informative series focused on fitness with diabetes!
Our program NO BARRIERS is here to empower individuals 18+ with diabetes to overcome obstacles to exercise. We know that people want to live healthier lifestyles, but recurring hypoglycaemic episodes during or after exercise can derail our best intentions and stop us from reaching our fitness goals.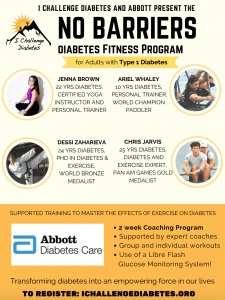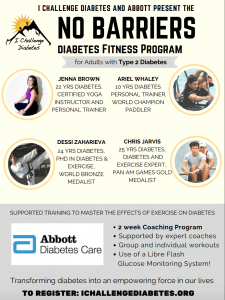 You do not have to be training for a national run to join us. In fact, we are here to empower anyone wishing to push themselves a little further, safely, with diabetes strategies to get you to your goals.
This awesome session is for both Type 1s and Type 2s living with diabetes. We will work together, learn from each other, and get sweaty!
We will be working with our partners at Abbott Diabetes Care to hook you up with your own Libre Flash Glucose Monitoring System during this program. This technology helps you to see your blood sugar trends in real-time, so you can learn how your body responds to different types of exercise and make a plan accordingly. We will be supporting you throughout the program to analyze your blood sugar trends and make changes to your workout plan that lead to success!
---
January 19th, 2020
12:30pm – 3:30pm
Pure Fitness, Leaside
20 Brentcliffe Road, Unit 4
Toronto, ON
The Program: Two weeks of coaching includes:
one three hour introductory session where you will meet our team, learn tools for BG management during and after exercise, and participate in a workout with our expert coaches
14 days of personalized coaching
a free Libre Flash Glucose Monitoring System
Cost:  While valued at over $500, this program is available to interested participants for FREE, thanks to the generous support of Abbott Diabetes Care!
Health, support, expert coaching and access to the newest technology… Let us help you to transform Diabetes into a positive force in YOUR life!
Questions: Call 1-877-776-6676 or email [email protected]
Address:
20 Brentcliffe Road, Unit #4
,
Toronto
,
Ontario
,
Canada