The Rock Wall Expedition


August 14, 2018 - August 19, 2018




10:00 am - 3:30 pm
"Experience one of the best hiking trails in the Rocky mountains with high mountain pass views to share with leaders and peers living with type 1. Learn and share skills to prepare for and enjoy your most adventurous challenge in the Canadian Rockies."
We have been monitoring the situation off Highway 93 caused by forest fires in the area. We do have an alternative hike planned in  Kananaskis if we are unable to go ahead with the hike in Rockwall. We will be monitoring the weather closely and will updating everyone a week prior to the event if we need to switch the location of the hike.
What: The Rockwall Trail is a 55 km superlative-laden feast (that means is piled up with the most amazing views) traversing three alpine passes through subalpine meadows and impressive "hanging" glaciers. The trail's defining feature is a single, massive limestone cliff, towering more than 900m above the trail we hike along.   
When/Where: August 14th – August 19th, 2018
The group will need the full 5 days/4 nights and start around 10 am at Flow Lake Creek and work our way towards Paint Pots on Highway 93. This is about 2 hours drive from Calgary. 

Driving Instructions: The meeting spot to start this hike is at Floe Lake Trail Head (32k east on highway 93 from Castle Junction or  71km west on highway 93 from Radium Hot Springs). We will be exiting the Trail at Paint Pots Trail Head after 6 glorious days of hiking in the Rockies! Car Pooling is encouraged and will be arranged in the beginning of July.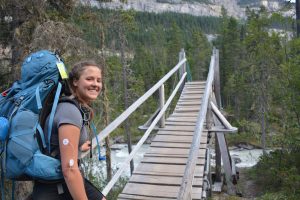 Who: This event is open type 1s looking for a physical challenge that really pays off. There is a lot that goes into managing diabetes in an expedition and there is no better place than in our group to do it.  Options for non-type 1 friends and family may be available, email if you're interested. 14 years of age is a minimum with some exception for exceptional candidates. 
To those uncertain about the level of challenge, or your experience level, connect with us and we can help decide if this is the right challenge for you. We will also be hosting an "Intro to backpacking", also in the Rockies with our seasoned veterans sharing what they've learned. ICD has led over 1300km of wilderness hiking in groups with T1Ds. 
Please Note:
Health Requirements: Diabetes, no matter what level of experience or confidence is not a basis for exclusion. However, you must have a decent fitness level to enjoy this hike. Pre-existing knee, foot and back problems could be dangerous and you should contact us to discuss.
Dietary restrictions for Celiac disease are our specialty. Just let us know what your needs are (nut allergies etc) and we'll work out a plan to accomodate.
Experience Requirements: Backcountry camping and backpacking skills will be learned under our experienced staff direction. We prepare all food, group gear, route planning for you so there is no need to worry. You'll learn along with us as we ensure our group's success. We will consult with all registered participants to assist with pre-trip preparations as required.  
Cost: We have early bird rates and a deposit will not only hold your spot but also secure your early bird rate. Please note, registration is on a first come first serve basis with spaces limited.
Save your spot with a $50 deposit today!
Mar-June 1st – $750
Why: Learn something about yourself and connect with others who understand the ins and outs of diabetes management. This is a great opportunity to see and take in picturesque views and discover what you can accomplish. Set yourself up for success with ICD.
Other Info: Since we will be carrying all our supplies on our backs, it is VERY important to pack smart and pack light. We will provide gear lists as well as support you if you require gear rentals.
Likewise, dietary requirements will be accommodated for but some favourite items will need to be substituted (We are not carrying a flat of juice boxes in the Rockies… but we can carry juice crystals 🙂
Questions: Email: [email protected] or call 1-877-776-0667
Address:
Kootenay National Park
,
British Columbia
,
Canada