Ultimate Amazing Race


November 18, 2017




8:00 am - 5:00 pm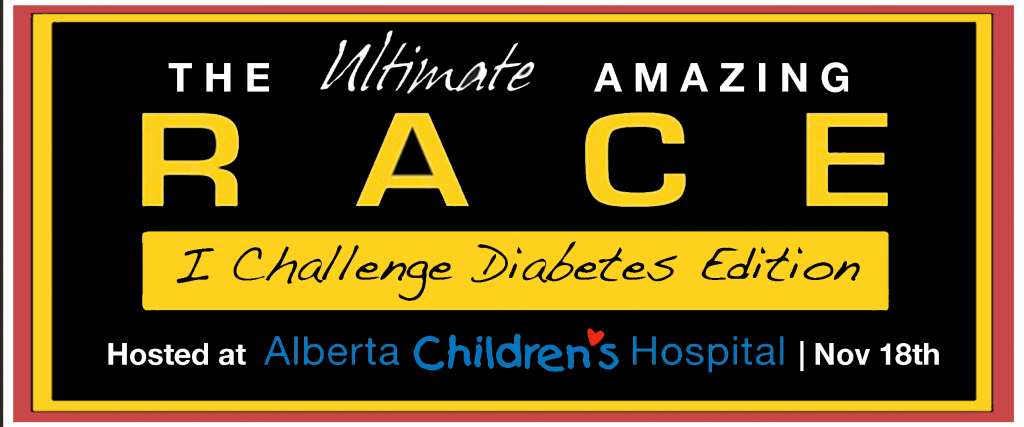 Test your mind, body and blood sugar! Individuals with type 1 are coming together from across Canada for a fun and adventurous day of friendly competition, mixed with practical diabetes education that won't slow you down. It's not about winning or losing; it's about taking on the challenge of our Ultimate Amazing Race!
Where: Alberta's Children's Hospital
When: November 18th, 2017 10:00am-4:00pm
Event Day Schedule:
10:00 am Registration opens
11:30 pm Opening Ceremonies
12:00 pm Nutritious lunch and related activity
1:00 pm Introduction and rules of the race
1:15 pm Race begins
3:00 pm Awards and appreciation ceremony
We've hosted our Ultimate Amazing Race across Canada with many international and returning participants coming together. It's a fun-filled and adventurous day mixed with practical diabetes tips and tricks. . Living with diabetes takes courage to face the daily challenges and to learn how to be your best. This race will push your team to reach for more with multiple legs. The race consists of a series of challenges – some mental and some physical– that must be completed before the next location of the next leg is revealed. Enjoy a workshop before lunch and see the skills of your peers in this awesome cooperative challenge.
Tickets: ​Includes admission & lunch.
Ultimate Amazing Race Ticket- $15 (per person, includes lunch, snacks and activity)
Pay at the door: Unable to pay online, this option lets you register and then pay at the door.
Empowerment Fund: Looking for financial assistance, selecting this option allows us to use funds that we have set aside to ensure everyone is able to make it out to our events
Teams: Each Team must have at minimum of one person with type 1 diabetes. Teams consist of 3-6 participants. Individuals or pairs are welcome to register in our "Team Lottery" so they can be matched with other team members of similar age.
When signing up you will have the option to either start a team or join someone's team, when joining a team please put the team name you wish to join or if you don't know the team name you can put the person's name and we'll make sure you end up on the same team.
Team categories in the race:
Wee Challengers (under 8 years of age) *
Tween Challengers (ages 9-12) *
Teen Challengers (ages 13-17) *
Adult Challengers (ages 18 and over)
*These teams will require one chaperone 18 years of age or older.
Workshop: We will be hosting a series of bonus stations for teams that will consist of additional activities to build skills and teamwork. These bonus activities will serve as great preparation for the race and provide you with an amazing opportunity to get some one-on-one coaching from the ICD award-winning Leadership Team.