World Diabetes Day Parkour


November 14, 2019




6:00 pm - 9:00 pm
Come celebrate World Diabetes Day with I Challenge Diabetes! A fun evening of parkour involving climbing, running, jumping, and tricks. Take a chance and try something new! We will undoubtedly learn some tips and strategies to take on a new sport with diabetes! The evening with start with dinner followed by a  parkour lesson with the Monkey Vault training staff followed by free time to stay and play at the gym.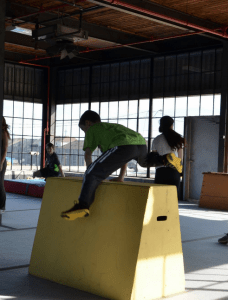 Come run, jump, flip and play with the I Challenge Diabetes team! No previous  experience required, we'll give you a lesson and show that no matter your level, Parkour can be for everyone. Monkey Vault staff will demonstrate and modify all exercises according to your level so that each person, young and old can enjoy this incredible sport!
Just like with diabetes, sometimes things seem impossible…but with the right support, you can overcome and vault over any obstacle!
When: Thursday Nov 14th 6:00pm – 9pm
6:00 pm- Registration and Introductions
6:30 pm- Dinner
7:00 pm- Group discussion to prepare ourselves for some parkour.
7:30-9:00 pm- Group parkour lesson.   
Where: The Monkey Vault Toronto
75 Carl Hall Rd Unit 15, North York, ON M3K 2B9
Look for signs for Toronto Roller Derby or Urban Squash Toronto. It is in the same hanger.
Who: Bring your family and friends to celebrate living well with T1D and raise awareness! All ages and skill levels welcome.
Tickets:
Parkour Ticket

: $30.00 includes dinner and parkour lesson.

Empowerment fund

:Finances should not be a barrier! Selecting this option allows us to use funds that we have set aside to ensure everyone is able to make it out to our events.
We want everyone who would like to attend this program to be able to do so. Finances should not be a barrier! Bursary options and reduced fee options are available. Contact us for more info.
Address:
75 Carl Hall Rd Unit 15
,
toronto
,
Ontario
,
Canada
,
M3K 2B9