Wee Challengers Drama Program Week 1


March 19, 2017




10:00 am - 12:30 pm

Wee Challengers Drama Program Week 2


March 26, 2017




10:00 am - 12:30 pm

Wee Challengers Drama Program Week 3


April 2, 2017




10:00 am - 12:30 pm
What is Wee Challengers: Our programs often have young T1D's join us and demonstrate extreme courage. This program initiative is to specialize the programming for this age group and unite children below the age of 7 and their parents to support their unique needs. Our first step is a dramatic arts program developed specifically for 4-5 year olds with type 1 diabetes. Participants will enjoy playing, creating, moving and storytelling together through activities in a safe and inclusive environment.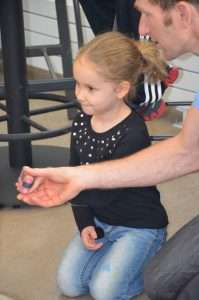 Program Leadership Spotlight: These dramatic arts workshops will be led by professional artist/educator Victoria Stacey. Victoria holds a Bachelor of Arts in Theatre from York University and has 8 years of experience leading drama, movement and dance workshops for children and is often contracted to teach the teachers of the TDSB. Victoria also has type 1 diabetes and is thrilled about the opportunity to provide quality arts programming for children who share this with her to provide positive role modelling and show what people with T1D CAN DO!
When: This event is a 3 week series. You can come to as many sessions as you wish each week will have something to offer! 
Week 1- Sunday March 19th
Week 2 -Sunday March 26th
Weeks 1 and 2 will be at Dancemakers studio in the Distillery District
Week 3- April 2nd at SickKids Hospital.
Where: Dancemakers Studio Theatre #313 – final week session at SickKids
Tickets: ICD will offer this program free of charge to remove any financial buriers. Those interested can pay it forward with a donation made online or onsite.
What you can expect: As with all ICD programs, diabetes management will be integrated seamlessly into the session which will add another level of safety and peer engagement. We will test our blood together and all things that build a healthy norm, allowing these youngsters the chance to see their peers in action. While they play, parents will enjoy a chance to share strategies and subtle tips in a facilitated discussion group.
Enrolling in ICD's Wee Challengers: As an example, this drama program would be ideally 4-8 weeks consecutively. By enrolling as a Wee Challenger, we will ask you what will suite your needs, interests and availability. We will update those enrolled with plans throughout February based on collected interest and provide updates about this event series. If you know others who could benefit through your networks, please share and help us to build the program!
History: For those who like to know the back story, ICD Founder started off with a teen outreach program in 2005 which drew international interest. Building some of Canada's first "At-Risk Youth" retreats, the organization started it's legacy where now we have over a hundred teen and young adults volunteering time and support each year. Likewise, sport specific programming started off small and grass-roots, going for runs or chatting on the phone/Skype etc with individuals who reached out for help. Now ICD leads some of the biggest sport programs for T1D's in the world… Now it's time for Wee Challengers.