Wee Challengers Series: Aurora


November 30, 2018




5:00 pm - 8:00 pm
I Challenge Diabetes in partnership with Aurora parent support group Insulin dosing, Carb counting SWAG Mamas/Daddys present, Wee Challengers Series: Aurora
What is Wee Challengers: Our programs often have young T1D's join us and demonstrate extreme courage. This initiative specializes the programming for this age group and unites children and their parents to support their unique needs. Children meet and play with peers with Type 1, while parents share strategies and find support in a facilitated discussion.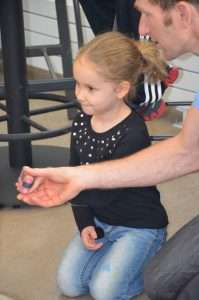 When: This event is a part of the Wee Challengers Series. Be sure to check out the other two events as well!
November 30th 5-8 pm
Where: Kid's Cuckoos Nest 1
55 Industrial Pkwy S, Aurora, ON L4G 3V5
Tickets:
$5 Play Ticket (with pizza and drinks) + credit card processing
Free Just Play Ticket ( No food) 
Parent Ticket (admission only, no pizza and drink)
If parents want to purchase extra pizza they can from the snack bar.
No outdoor food is permitted. This venue is a peanut free faculty
Fruit and snack items are available to purchase.
What you can expect: As with all ICD programs, diabetes management will be integrated seamlessly into the session which will add another level of safety and peer engagement. We will test our blood together and all things that build a healthy norm, allowing these youngsters the chance to see their peers in action. While they play, parents will enjoy a chance to share strategies and subtle tips in a facilitated discussion group.
Address:
155 Industrial Pkwy S
,
Aurora
,
Ontario
,
Canada
,
L4G 3V5