York Sports Camp Parent Workshop & Camp Preview


July 9, 2018




9:00 am - 4:00 pm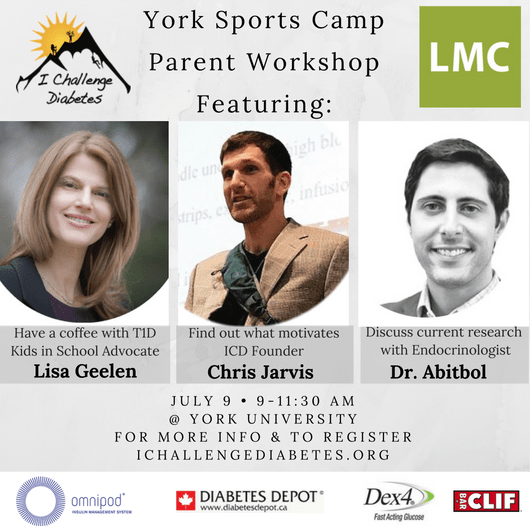 Parent Info workshop: The first day of camp (Monday July 9th) we will be having a Parent Info Session with some fantastic guest speakers!
9-10am: Join passionate parent advocate Lisa Geelan and Kira, a VP with the TDSB in a discussion on how to keep type 1 kids safer in schools. Lisa is the founder of Coffee's on Me! an organization she started herself to bring more awareness to Type 1 Diabetes. Currently Lisa has been working hard with several projects including ICD's Kids in School project and making strides to include Type 1 Diabetes in school board policies! Coffee is provided!
10am-11:15am: Dr. Abitbol, an endocrinologist at LMC will be discussing his current research. There will be an opportunity following the talk for a more informal Q&A session.
These sessions are designed to give parents an opportunity to connect with other families experiencing similar challenges in an atmosphere of understanding and support.
This workshop is a free event, please register for this event so that we can send you relevant information about the workshop.
York Sports Camp Day Preview. We can't let the parents have ALL the fun! While you are attending the Parent Workshop from 9-12, your child will have the chance to take part in our Diabetes Sports Camp at York's Tait Mckenzie Athletics Centre. They will join other campers, some living with Type 1, some not, and our ICD leaders as they challenge themselves to balance sport and diabetes management. Your child will have full diabetes mentorship and support for the morning, the same way all our campers are supported throughout our week long camp. Want more fun! Sign up for the full experience at one of our three camp sessions this July.
***This one day preview is your only chance to check out this program before registering, there are no other half or one day options at this time.
Age categories are: 6-7 years, 8-10 years, 11-12 years, and 13-15-years
Tickets: York Sports Camp Day Preview : $30 for the day  and the cost of online credit card processing fee.
If finances are a barrier please register under the Financial Assistance for Camp Day Preview, so that we can collect all relevant camper information for the day.
An email with all relevant information will go out to registered participants before July 9th.
Packing list includes:
Running shoes, athletic wear or t shirts and shorts, sunscreen, hat, a packed lunch and of course diabetes supplies for the day are all required.
Address:
4700 Keele St.
,
Toronto
,
Ontario
,
Canada
,
M3J 3T8