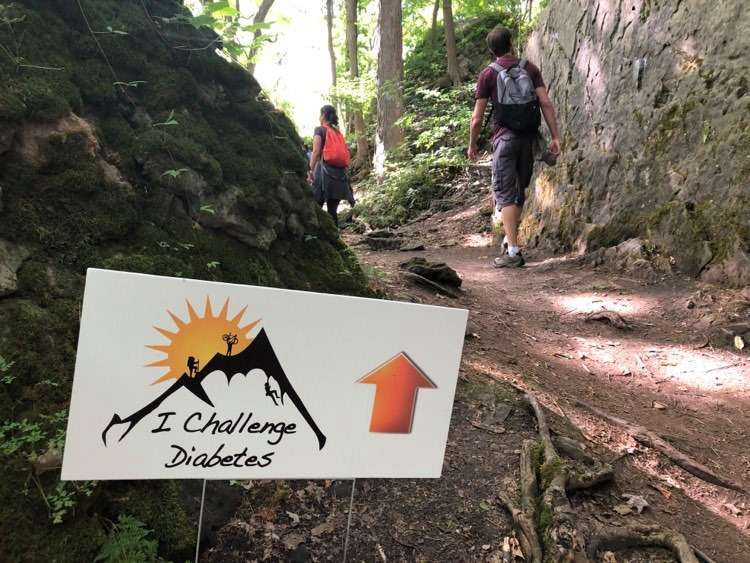 ICD Small-Group Outdoor Program Protocols during Covid-19
IMPORTANT : In keeping with current public health and safety guidelines. we are limiting registration for our overnight adventures to individuals who are fully vaccinated at this time. (applies to those ages 12 and up)
Overview:
We at ICD take our Covid response seriously and have established the following plans and policies below to ensure the health of our community. We know that the impacts of our programs play a profound role in empowering and supporting those living with diabetes and we regularly see significant impacts to our participants health as it relates to both diabetes and mental health outcomes.
There are multiple factors to be considered in health and safety. The risks of Covid when combined with diabetes are well documented to be most severely impacted by age and blood sugar management. Thus it was important to consider and weigh the continuation of these empowering programs with the controls we can make to limit the risks of covid 19.
Our leadership team has always been health focused and will be reinforcing the values and measures detailed below.
Group Management:
Our groups are split into smaller "cohorts" with a maximum of 15 people. Each cohort will be self-supported with their own leaders, gear and supplies and picnic area. Cohorts can interact in outdoor settings provided appropriate social distancing takes place.
Within the cohort, our first step is to restrict sharing items unnecessarily. Each member will carry and use their own water bottles, as well as carry and eat their own snacks and/or lunches.
Venue Requirements: Some venues, whether indoor or outdoor may require participants to wear masks. Please have masks and sanitizer available for yourself/your family to use as needed. Specific venue requirements will be shared per event.
Public Health Guidelines and COVID-19 Self-Assessment:
Participants and staff must confirm full understanding and agree to following the below, prior to the program. Our event staff will be screening all participants at registration before events begin, based on the questions included in the self assessment above. Please use this link for self assessment prior to attending any ICD events.
https://covid-19.ontario.ca/self-assessment/
All staff and participants that have travelled outside Canada in the last 14 days, OR were identified by Public Health as a close contact of someone who tested positive for COVID-19 must stay home and self-isolate.
ICD will be adhering to all government directives in regards to physical distancing in all areas of our operations. proven to be one of the most effective ways to reduce the spread of illness during an outbreak, our staff and participants will be keeping a distance of at least 2 arms-length (approximately 2 metres) from others, and avoiding common greetings, such as handshakes
ICD will emphasize preventive hygiene practices with our staff and participants. Maintaining good hand and respiratory hygiene are very important personal practices that help reduce the risk of infection or spreading infection to others.
Wash your hands often with soap and warm water for at least 20 seconds. If soap and water aren't available, use a hand sanitizer containing at least 60% alcohol.
When coughing or sneezing, cough or sneeze into a tissue or the bend of your arm, not your hand. Dispose of any tissues you've used as soon as possible in a lined waste basket and wash your hands immediately afterwards
Avoid touching your eyes, nose, or mouth with unwashed hands.
ICD will be requiring all staff and guests to wear a face covering that covers the mouth and nose in any enclosed spaces, or when physical distancing is not possible.
If a participant develops symptoms while at the program, the participant will be fully supported, monitored for progression of symptoms while isolating the rest of the group from possible transmission.
Guidelines for determining whether a staff member or participant should remain at home or isolate from the group:
● Fever/chills (feeling hot to the touch, a temperature of 37.8 degrees Celsius/100.4 degrees Fahrenheit or higher)
● Cough that's new or worsening (continuous, more than usual)
● Shortness of breath (out of breath even when sitting or walking
● Sore throat (not related to seasonal allergies or other known causes or conditions)
● Runny, stuffy or congested nose (not related to seasonal allergies or other known causes or conditions)
● Unusual level of fatigue
● Headache that's unusual or long lasting
● Nausea/vomiting, diarrhea, loss of appetite, stomach pain (not related to other known causes or conditions)
● Feeling unwell for an unknown reason

Program Cancellations:
While we hope to be able to go ahead with our programs as planned, changes to Public Health Guidelines may affect our ability to continue.
Where Public Health recommendations cause a program cancellation, ICD will inform all participants in a timely manner. Any program fees paid to ICD for cancelled programs will be refunded, minus a 5% processing fee. Refunds can take anywhere from 5-15 days to be reflected in the participant's account.