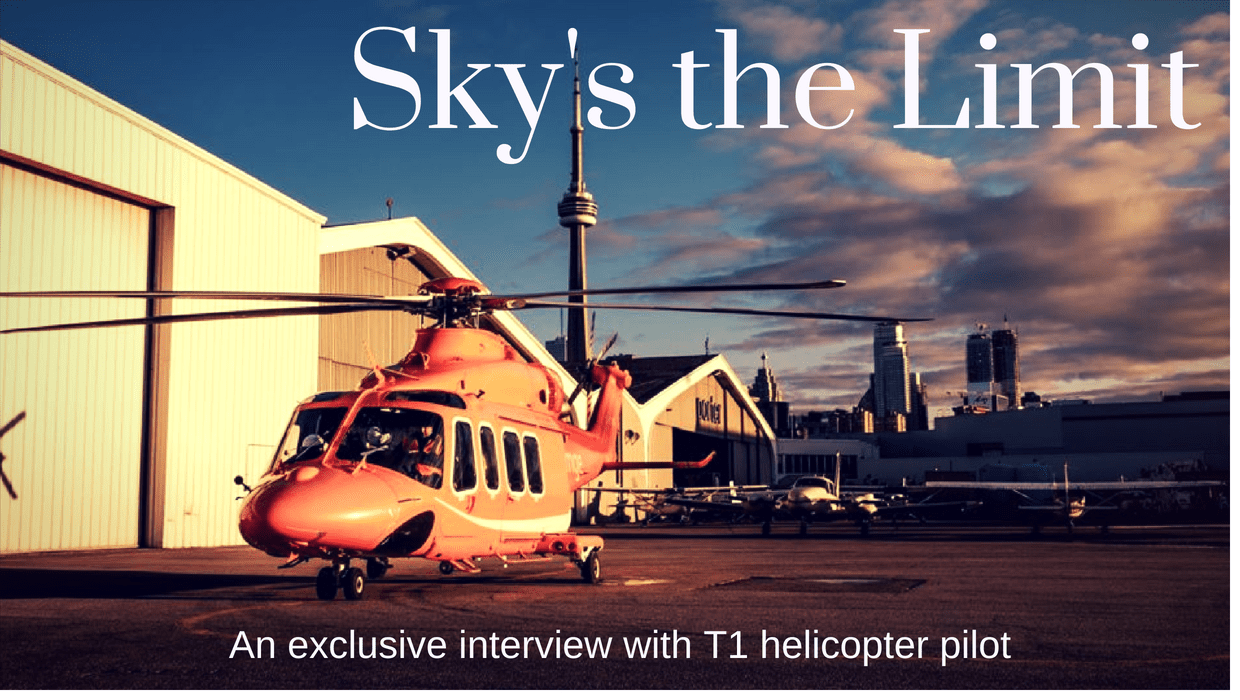 A diagnosis of Type 1 Diabetes has its challenges, especially when it comes to career goals. For example, living with Type 1 Diabetes means facing the reality that due to the nature of the chronic illness, dreams of becoming a pilot, a firefighter, an astronaut or a commercial truck driver are going to be with limitations. The good news is, in recent years the world's perspective on what Type 1s can do as career is changing for the better.
Derrick Affleck, who lives with Type 1 Diabetes, is a great testament to this shift in perspective. Derrick is a commercial pilot who holds a specific pilot's license called an "Airline Transport License" for helicopters. Derrick completed his initial flight training in 2008, but in 2011 he was diagnosed with Type 1 Diabetes. This was after returning from a successful helicopter contract in Afghanistan.
Currently, for people living with Type 1 Diabetes, it is near impossible to become  a commercial pilot. Transport Canada does not allow any Type 1s to fly alone, which resulted in Derrick temporarily losing his license. Derrick explains, right now "[i]n the helicopter world, your initial licence is comprised of 65 hours of dual instructional time and 35 solo hours. Sadly, unless you are an existing pilot when you get diagnosed with T1D, attaining a commercial pilot licence is not an option."
Derrick was fortunate in having completed his initial license prior to diagnosis. He, however, admits that there were several challenges yet to overcome after his diagnosis. Derrick would not be allowed to fly as a single pilot and complete solo operations as he had been doing in the past. This meant Derrick had to demonstrate to Transport Canada that he has been and is in consistent control of his blood glucose. This process took six months and resulted in an approval to fly with the restriction that he would be only be able to fly "with or as a co-pilot". The challenges were not over as Derrick needed additional schooling to be qualified on dual pilot operations. The additional schooling was expensive and due to losing his license, he was unemployed thus making funding difficult.
Despite these challenges, Derrick completed the schooling and is now back in the friendly skies, flying seven days and seven nights per 28 days. Derrick's diabetes management for each 12 hour (minimum) shift requires that he test his blood glucose within 30 minutes before flight and every hour during. This is to keep his blood sugar in the specified Transport Canada range. Should Derrick's blood glucose go out of range, he must make a quick correction using insulin or sugar as required. Transport Canada continues to review and evaluate their requirements as new advancements in Type 1 Diabetes come available.
Derrick's best advice to other type ones who are aspiring to be pilots is to voice themselves to Transport Canada. Derrick says, "the more voices Transport Canada hear from controlled Type 1 Diabetics aspiring to be pilots, the more it's on their radar.
In general, the outright blanket ban on careers, such as being a pilot, are now being reduced to restrictions. This doesn't remove all challenges or frustrations. However, these careers are now a possibility for Type 1s provided they meet the diabetes management requirements, as demonstrated by Derrick. For all you Type 1s, the sky may not be the limit.